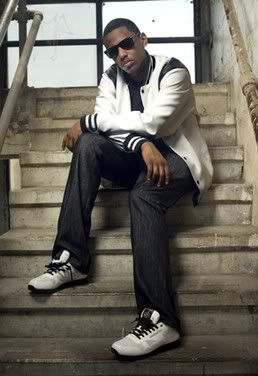 Just a few more things for F-A-B-O to "Throw in the bag"! And this time he won't need to use his Black Amex. But, you and I will have to pay honey, unless of course Reebok would like to send a pair Shoey's way...wink, wink!
So anyshoe, yesterday it was announced that Fabulous would join the 5-city Classic Remix shoe launh/concert series that Reebok and Foot Locker are masterminding. A great promotional deal for the Brooklyn-bred MC who just dropped a new album,
Loso's Way.
No better way to do it than to perform new songs and classic hits while stepping out in some classic kicks! Wow, I think I just gave you a free bar FAB...I'll be expecting a check!
And these sneaks are Classics indeed! I got my first pair of 54-11's, a.k.a the Workout Hi's, in 9th grade from my very first boyfriend! All black and they looked awesome with my Levi's or so he smile used to tell me! As a member of the Flag Corp in H.S. we rounded out our adorable (and short) uniforms with the crisp, all white Classic Leathers. Aww, to be young and sneaker-clad again...sigh, those were the days! But no fret because Reebok is bringing them back and I'm sorry ladies, this remix is for the men only!
The 4 throwback styles below will be available in select doors, only where the concerts will be held.
Click here
to see if you're in one of the lucky spots. There are a few reasons to grab a pair of these...1. what's better than a pair of dope kicks for less than $80, 2. you can score a pair of FREE tickets to see FAB, and 3. because The Shoenista told you too!!!
Classic Leather, black/red $69
SL7010, blue suede $59
Tejara, white $69
Workout Hi , grey $74