Today's post is a wee bit different. Still about our crazy obsession of shoes, but on a much smaller scale. Do you ever feel like letting the world know how you feel? I mean other than the wicked shoes you sport on your feet everyday. I sure do!
The Shoenista found some cute lil' goodies and I'd like to share them with my fellow shoe-mavens.
This set,
I Heart Shoes
, complete with earrings and a necklace is cute...a little art class creation-esque, but gets the point across nonetheless!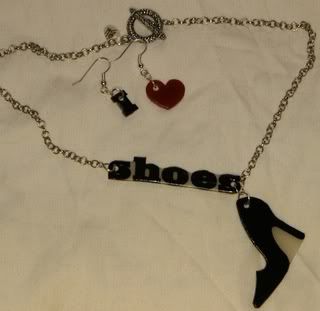 From Barbie's feet to your ears. I mean she has always had the killer wardrobe. She could be just about anything she wanted. Personally, I think that she and Ken were into some serious role play...Freak!...but that's just my take on it. Anyhow...back to the earrings!
M Design Boutique
, are the creators behind these cutesy earrings.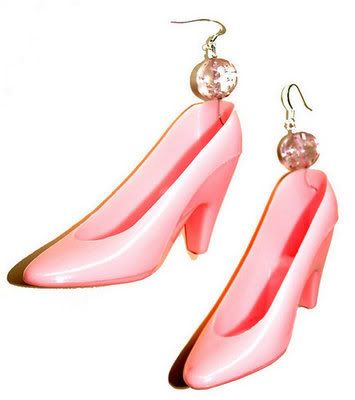 Twinkle Toes Charms are like the mama-ship of shoe-inspired jewelry. Not only are the pendants made from sterling silver, but they are made in pairs. This site is for the serious shoe obsessor, which takes into consideration all styles of shoes. It's definitely worth a looksie and a buy-sie!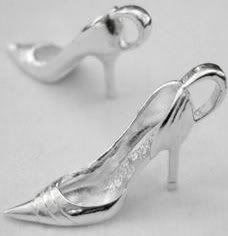 These retro-bow numbers are my personal fave! They make we want to pull on some pantyhose with the seam up the back, slip into those heels and take naughty pics!!! Too much info, right? So what...you had the exact same idea...whore! Lol.
Unfortunately, these are no longer available on the
Tatty Devine
site, but this really kitchie online shop is chock-full of novelty goods!