Even though it seems as though Summer has just arrived in NYC, Fall is fast approaching! The 90+ degrees hardly allows your brain to process slipping your feet into anything that doesn't allow your toes to be free, but we must be prepared to look fab as we step into one of the most beautiful seasons.
The Fall Shoe trends for 2009 are certified eye candy! Naturally boots are on the menu, but the shoe artisans are planning to kick ass with the "steppers" they've worked up for the Fall. Nothing off the wall or completely out of the ordinary, but definitely enough to get you a double take.
SUEDE

X

RUFFLES
X

PLATFORM
Suede, a Fall staple, has made its way onto the list of top trends in the shoe arena. Not surprising at all. Although suede requires lots of TLC, it will show you the same love when it makes your ensemble go OWWWWW! Miu Miu has created a subtle pair of chic pumps to achieve that exact reaction. A gorgeous eggplant color added to the flair of the small ruffle detail down the 5in. heel, and the visible stitch should definitely be paired with your sheath dress for day and your coolest jeans for the eve.
Miu Miu, Suede Platform Pump $570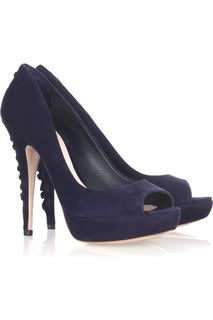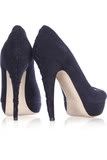 Loeffler Randall combines the suede, grey and platform assuring that they incorporated all the key trends. Not a shabby showing at all.
Loeffler Randall, Esther Pump $425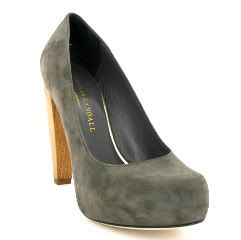 BOOTIES
X

JEWEL TONES
X

STUDS
I think Booties have made such an impression on our feet, that we just can't bear to see them go! I mean, they are so versatile...just about any color, heel or adornment and you want to scoop them up, not to mention that they look fierce with just about anything! Stella thinks you'll look hot in her jewel-toned, patent leather booties and I just happen to think so too.
Stella McCartney, Drape Neck Bootie $675
Mr. Jacobs, I don't just heart you...I love you! These are WICKED! Supreme rocker/biker meets high-fashion Betty! The angle on these studded-heel boots are razor sharp and they keep giving more sass as they show off their backside. No need to wear a damn thing with these...ok, maybe some super shiny leggings from American Apparel, motorcycle leather jacket, some red lipstick and a scowl for those who think they can F*ck with you when you've got these on!!
Marc Jacobs, Studded Booties, $899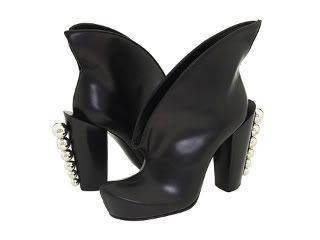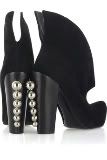 BUCKLES

X

STUDS

Buckles seem to be on every boot, shoe and even clothing this season.
Not exactly sure what the fascination is, but I think it works for these See by Chloe "Doc Marten-esque" boots. The buckles, straps and studs feminize the otherwise "butch" boot, not to mention adding some glamour. Worn with some super skinny's may actually prove to be pretty sexy

.

See by Chloe, Studded Leather Ankle Boots $495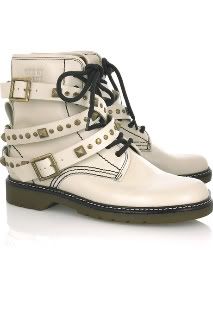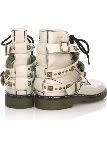 O-T-K
My ABSOLUTE favorite trend is the Over-the-Knee boot, or the OTK. Given that
The Shoenista
is only about 5ft in her stocking feet, I probably won't be indulging in these. But if you leggy beauties love to show off those stems, then I suggest you invest in a pair. Don't be alarmed, no one will mistake you for Chesty LeReaux from the Hustler Club...these are all class, sans the ass!!!
Gucci, Division Platform OTK $2,950
So, get your shopping list ready and make sure you take advantage of these trends for the upcoming Fall season. You just can't go wrong!
XOXO...
The Shoenista
!